Moodle app
With the Moodle app, you can learn wherever you are, whenever you want, with these app features:
Easily access course content - browse the content of your courses, even when offline
Connect with course participants - quickly find and contact other people in your courses
Keep up to date - receive instant notifications of messages and other events, such as assignment submissions
Submit assignments - Upload images, audio, videos and other files from your mobile device
Track your progress - View your grades, check completion progress in courses and browse your learning plans
Complete activities anywhere, anytime - attempt quizzes, post in forums, play SCORM packages, edit wiki pages and more - both on and off-line
... and more!
To access your Moodle or MoodleCloud sites on your mobile devices, please ask your site administrator to enable mobile services.

See the Moodle app documentation and Moodle app release notes for all the latest information.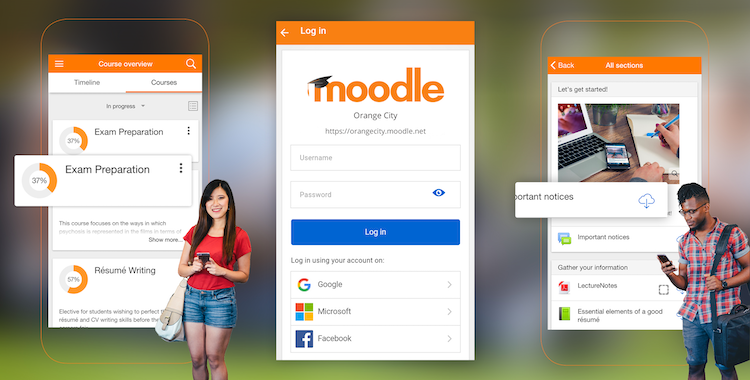 Thank you for using Moodle!
We believe that software, especially educational tools, should always be open and free. We rely on our community to support and help us to continuously improve our LMS. Support our developers by making a donation.

Feedback wanted!
What do you think about our Moodle app? What else you would like the app to do?
Let us know by joining the discussions in the Moodle for mobile forum and checking the list of Mobile bugs and feature requests.
Moodle app APK
The latest version of our Moodle app for Android can be obtained from the Google Play Store (recommended). If you are unable to access the store, you can download the Android Package Kit (APK) (requires Android 4.0 or above).